Tessa did great today. We worked the sheep that are not the calmest. They can be flighty and run off; especially if the dog working them is not calm and working at good distance. Tessa and I worked for about an hour and the sheep only ran off twice. I was very impressed!!

She kept her distance, worked calmy and only rushed in a few times. The key was watching her close at the start of her outruns. If she started too fast or walked forward instead of starting to the side then we stopped and started again. She catches on quick and was working great!

Lorin filmed some, but she had the baby and puppies so it was quite the episode. The puppies kept running out to see what Tessa was doing or they'd start playing and wrestling with each other.....which the baby finds hilarious. You can hear him laughing at the puppies in the video.

The only negative today was that the big ram got pushy. He tried to turn on Tessa a few times. It was the first time I've ever seen Tessa back down since she was a puppy. I think she'll be fine and control him as she gains confidence and age....but I'll be watching that close and make sure I'm helping whenever he is involved.
Powered by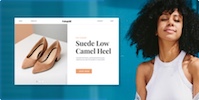 Create your own unique website with customizable templates.