Amazing....the last few weeks of Tessa's work have been simply amazing. My only regret is not enough time to post more after each of her past successes.

First, Tessa and I brought up the whole herd for the first time a week ago. We were able to work every head of cattle- except our small flighty bunch across the creek. It took Rancher and I until he was 3 to get to that stage. Tessa is there before she comes close to turning 2. What impresses me is that when an annoyed cow turns back on us to try and escape, she challenges it quickly and turns it back. Quite a site to see 60 cows and calves streaming from the back of the place and being pushed into the coral.

Once in the corral, she was fierce with her pen work. Getting in tight spaces and heeling, heading, flanking, and causing enough pressure to turn anything that took her on. Quite the site.

Then Tessa helped Lorin out for the first time when I was away. Tessa and Lorin have not worked together the best...but this time Tessa was a huge help bringing in a small group of cows to be preg-checked. She worked so well, the vet was asking us about puppies. Nice validation that it's not just me who thinks she's one-of-a-kind.

Tonight, the video bellow shows some of our medium work. We've got a lot to work on, but now she works steady enough that her brain can keep up with her speed. She's so lightning quick she can outrun her head; understandable for a young pup but she's starting to hit adult where expectations are different. We continue to be excited about her future and am thankful that after losing Rancher, we had a gem to follow in his paw prints.
Powered by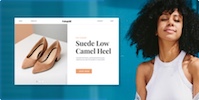 Create your own unique website with customizable templates.