Tessa helped feed this morning. She gets a little carried away chasing cattle away from the four wheeler or feeding Scout. We got her calmed down and she sure is a nice help to keep the cows from tackling you while you get the hay spread out.

Tessa also helped with

our first calf this morning (photos and details in the Farm Blog).

She took Rancher's place for the first time on calf duty. We have a dog sitting on the back of the four wheeler. Sometimes the momma cows get so protective they'll try and take you down. Lots of cracked ribs out there from cows knocking people over and beating on you.

Rancher, and now Tessa, are on guard duty. Fortunately, most the cows have a great temperment. This morning was easy. The cow was concerned but didn't try and hurt anybody when we tagged and checked on the calf; exactly what we want. This time, Tessa never had to leave the back of the four wheeler.....but there will be a time or two where we'll need her.

Rancher saved me lots of bruises in the past. If a cow would try and take me, he'd come off his four wheeler post to quickly distract the cow. They're always much more concerned about a dog than a person. And the dogs are much quicker than I am to keep the cow at bay.
Powered by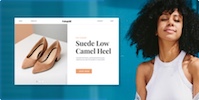 Create your own unique website with customizable templates.