Tessa and I worked sheep a little today. Still no lambs and everyone is healthy, so short half hour practice was good for everyone.

Tessa did some great things. We're working at longer distances now. I still need to expect her to work a little slower and she'll slice in at the end of her outrun. That is when she circles around behind the sheep and instead of keeping a nice wide circle she cuts in towards the sheep. I'd like her to be able to make a wide circle around the sheep and get to the other side without getting close enough to move the livestock. I know she can do it with more practice.

She is doing amazing work at such a young age. I'm more and more impressed every time we work together.
Powered by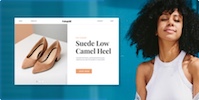 Create your own unique website with customizable templates.