This morning Tessa and I had a lesson with Trudy. I was a little concerned about Tessa backing off the ram and being timid with the tame and stubborn Hereford heifers.

As Tessa has calmed down and worked slower the stubborn livestock don't move away like they did when she was exploding all over the place.

Today's lesson was with sheep in an alley and pens that made a circle. We'd have Tessa work slowly moving the sheep around the circle. Then we'd slow the sheep down in the alley and have Tessa apply pressure to push them through using an excited "push, push, push" command. It was working really well.

So when I got home we worked on the farm's sheep and our two heifers. She translated the morning lesson to perfection. Any time the ram started getting pushy, or the heifers stopped and wouldn't move, I'd say "push, push, push" and she'd boost up and move them away. A great example in the video.

The new challenge....calming her back down after she's boosted up. But I think she's getting it so fast I'm not worried much.
Powered by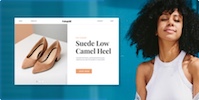 Create your own unique website with customizable templates.