It's been a long summer and obviously busy because we've not posted updates for too long.

We'll try and get caught up, but with the Aussies, things are going well. We've started working the puppies. Penny is showing quick instinct to drive. She's quite the heeler. When she's not barking or trying to chase livestock, she's trying to bite and grab Tessa's back legs.

Piper is still the more quiet and methodical one. Her instinct is to circle, while Penny charges straight in. As we were out feeding cattle today the whole herd was out in front of us. Penny rushed right into them barking and nipping to move them. Piper was circling out to the right and starting to bring them back.

Meanwhile, Tessa is amazing. She's definitely found a teenager phase and now "decides" on her own when she'll listen. Fortunately, that has been a very quick phase. It lasted about a week and has faded away. Her work now is pretty for me to watch. We're still working to improve, but her outruns and control are crazy-good; and she's not even two years old yet. The sky is the limit for Tessa. I'll get some video up; it speaks for itself.

The photo below is from a few months ago...all are bigger now...but one of our favorites.
Powered by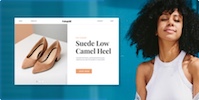 Create your own unique website with customizable templates.