We worked cattle Saturday in prep for AI work this week. Tessa and I hit a big road block. I realized our farm work lately has been all driving along fencelines....so she stopped fetching. Instead of finishing an outrun to get behind livestock she'd stop after half a circle and wait for me to let her drive them to my left or right.

As soon as we spotted the problem I switched from farm work to training. We spent nearly two hours off and on Saturday just working on outruns. You can see in the video the halfway mark. She was starting to get behind livestock again and keeping distance well.

The training really paid off. Tonight we gathered up about a dozen cattle from a long distance. She kept super wide outruns and worked exceptionally well gathering them to me. Then did a bunch of pen work moving smaller groups around. She was nearly perfect. I couldn't help but smile the whole time seeing how quickly she learns and how quality time training really pays off. She's heeling, controling heads, stops them when they push on her....you name it....she did it well today.
Powered by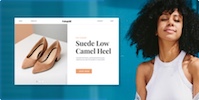 Create your own unique website with customizable templates.