One of the first things I try and teach our dogs as they exit the puppy stage is how to load up. This could be in the back of a truck or car, but for us, the four wheeler is most common. Tessa always enjoys going for a ride and a bale of hay doesn't get in her way.

Even more important than loading up is riding calm and staying in place. Brave or excited dogs try and walk all over the place on the four wheeler and risk falling off. We try and make sure they are good with laying down and being stable. Then make sure they stay put until released; which is very important when you're in the middle of the herd.
Powered by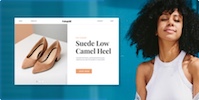 Create your own unique website with customizable templates.