I picked up Tessa this morning. Thank you to Trudy for her help putting extra training on Tessa the past few weeks. Trudy and Dave are excellent trainers and are the breeders of Tessa. Tessa's mom, Tick, is quite an impressive dog.

With us losing Rancher unexpectadly, Trudy has helped put some extra training on Tessa while we're at work. This has sped up her learning so we have a helpful farm dog sooner. We sure miss Rancher's help and the rapid training program Tessa is on will be a huge help.

You can see in the video how quickly she's progressing. She already can work at medium distance, she can maintain a descent outrun, and is able to put together fetching sheep to you into driving them away. She's still an excitable puppy at only 15 months old. You can see that towards the end of the video when she breaks up the sheep. Overall, she's been an impressive herd-dog. I can't believe how good she's doing at such a young age.
Powered by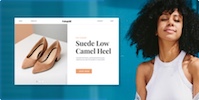 Create your own unique website with customizable templates.