More practice today. I need to be more of a stickler with keeping her distance and slowing her speed down a notch.

If she stayed farther away from the sheep and worked slower the sheep would be more calm and under control.

But I'm getting picky for such a young dog. She's still just 16 months old and way ahead of where our first herding dog and good friend Rancher was at that age.

A side note that the sheep are working better and better. They were a flighty group that were hard to work. They are now staying closer to me as we work. A combination of Tessa's improvement and the sheep getting more adjusted to people and dog contact.


Powered by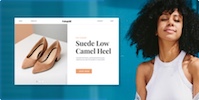 Create your own unique website with customizable templates.