Tessa is now a master at one of our evening chores. We have two hopeful Hereford show heifers for this year,

Kate

and

Libby

. They are in the same pasture as the sheep. We're keeping a close eye on the sheep about to lamb and getting extra feed and attention to the hopeful show heifers.

At night we try to give the hiefers a little extra grain. The ram and old ewes will actually push the cattle out of the way and eat most of it. So Tessa has been helping hold the sheep away from the feed bunk while the heifers chow down.

She's an expert at it now. I point to the sheep and have her Walk Up, she quickly pushes them out of the area. She does it so well now she's able to look at the sheep and they run out. The ram no longer tries to test her.

Our only minor challenge is having her lie down and maintain holding them back. If I get out of eyesight she leaves her post. I need to work on her Lie Downs, so she holds them until released...or it is going to be a problem in the future.
Powered by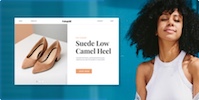 Create your own unique website with customizable templates.