I play frisbee with Tessa most nights. We use it to practice her lay downs while she is excited. In honor of the NFL Playoffs, lately the puppies have turned it to frisbee football.

The irony is that a year ago Tessa did the same thing to Rancher. Rancher, our first herding dog, passed away too young this summer at four years old. Rancher had the long, fluffy Aussie hair. Tessa used to grab the hair on his neck and hang on him while he retrieved the frisbee.

You can check out the video below....Rancher's payback from afar.....sending two puppies to tangle with her.
Powered by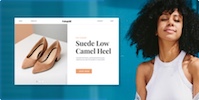 Create your own unique website with customizable templates.