Tessa is a true working dog beyond what you normally see for Australian Sheperds. Her herding instinct and drive is as intense as they come. So much that she creates extra work for herself.

She should fetch livestock to us and slow up or stop so the sheep or cattle are between us. Tessa, however, likes to push them past me. This gives her the extra work of circling back around to recover the livestock and bring them back.

The first video shows this well. She does an outrun to go fetch the sheep. She brings the sheep up to me and then lays down. But she inches forward until the sheep go by me; Not Good. We worked today to fix that and in the second video you can see our result.

Thanks to Christmas presents we now have a GoPro camera. We'll have a lot more video to share in the future as it is much easier to shoot good video on the go.
Powered by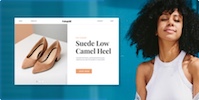 Create your own unique website with customizable templates.