Lorin had the vet over today to preg check, look at a few sore feet and do a few Bangs vaccinations. With Tessa, I don't worry about sorting the cattle even though I was at work.

Video below is from a few weeks back but shows how she gathers them up. She did the same thing today putting them easily into the corral.

Oddly, Lorin is convinced Tessa shows off for the vet. She usually works near perfection when he comes out. She was doing wide outruns and going tight on the panels to scoop them out of corners. The vet stopped to watch her work again and commented how keen she was.

He's right, she shows more eye and is more keen than most Aussies I've seen. She works with the intesity of top Bordie Collies and breeds known for their eye.

What's "eye" or "keen"? I'm still learning, but it's basically a dog that works with intensity and can move livestock with a look. Cattle, Sheep and livestock are able to know the dogs intentions based off their look. That is why some dogs can stand on the other side of a fence and with just a look...the cow will turn away. Tessa does that. Rancher did so many things great, but he could never look a boss-cow off a fenceline without movement. Tessa can stand still and use eye-contact to move stock.
Powered by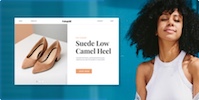 Create your own unique website with customizable templates.