Most weeks I bake a cookie for the cookie jar we have on the kitchen counter. We have some usual suspects that repeat but I try to shake it up as much as I can and try new ones. I love the soft Loft House sugar cookies you get at the grocery store bakery but they often give a funny aftertaste so I thought I would try my hand at making some at home. Oh my what a mistake! I could eat them all day long! I adapted this recipe from food folks and fun.

With Valentine's Day coming up we decorated them pink with sprinkles. I really like them also because I am not a big sugar cookie fan when it comes to cutouts and piping icing and all of that. This makes it so easy because they are all round and super soft and you still get to ice them and decorate them but without all of the time and detail others require. Plus you can change it up for any occasion so easy!

Ingredients:

​Cookies:

4½ Cups all-purpose flour
4½ Teaspoons baking powder
¾ teaspoon table salt
1½ Cups butter, at room temperature
1½ Cups granulated sugar
3 large eggs, at room temperature
5 Teaspoons vanilla extract

Frosting:

5 Cups powdered sugar, sifted
⅓ cup butter, melted
1 tablespoon vanilla extract
7-8 Tablespoons milk, plus more as needed
food coloring
sprinkles

Preheat the oven to 350˚ F. Line baking sheets with parchment paper or silicone baking mats.
In a large bowl combine the flour, baking powder and salt, whisk together to blend. In the bowl of an electric mixer, combine the butter and sugar and beat together on medium-high speed until soft and fluffy, about 2-3 minutes. Beat in the eggs one at a time, mixing well after each addition and scraping down the bowl as needed. Add the vanilla and mix until just combined. Add the dry ingredients and mix on low speed until just combined and there's no flour pockets. Cover the dough with plastic wrap and chill for 1 hour.
Scoop 3 tablespoons of the dough and roll into a ball. Place on the prepared baking sheet and flatten the ball slightly with the palm of your hand. Repeat with the remaining dough, spacing the cookies at least 2-3 inches apart. Bake one baking sheet at a time and bake about 10-12 minutes or just until set, and do not over-bake! The edges of the cookies will be lightly browned. Cool on the baking sheet for 5 minutes and then transfer to a wire rack to cool completely. Repeat with the remaining dough.
FOR THE FROSTING: In a medium bowl add the powdered sugar, melted butter, vanilla, and milk. Whisk until smooth, whisking in additional milk as necessary, 1 teaspoon at a time, until you reach your desired consistency. Color with food coloring if desired.
Frost the cookies by adding a dollop to the center and use an offset spatula to smooth out to the edges. If the frosting begins to thicken as you decorate, just continue to whisk in small amounts of milk to keep it workable. Top with sprinkles if desired. Store in an airtight container at room temperature for up to 4 days. If they last that long!
Powered by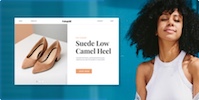 Create your own unique website with customizable templates.