So I took a bit of a hiatus from blogging partially due to just the craziness of farm life and other things but mainly we have been cooking up a new addition to the family. I am settled into things now though and want to get back to cooking and creating recipes that I love.

I want to kick it off with my favorite pasta dish of all time! This is a great version of carbonara and it has mushrooms which is also a favorite in our home, so it is fabulous in my opinion. Hope you like it as well. To make a basic carbonara you could just leave the mushrooms out. Just be ready to eat when you are doing this because it is the best when it is eaten at once.

Mushroom Carbonara

Makes 2 hearty servings:

•2/3 pound linguine
•4 slices bacon, cut into small pieces
•2 c slices mushrooms, I used Crimini but you could do one or a combination of varieties.
•4 large egg yolks
•2/3 c heavy cream
•1/2 c Parmesan, plus some extra for topping
•1/2 tsp freshly ground black pepper
•salt to taste

Get a large pot of water boiling and cook pasta. In a medium sized skillet get your bacon cooking and saute until almost crisp. Then add your mushrooms and cook until tender and bacon is crisp.

In a small bowl whisk to combine yolks, cream, Parmesan and black pepper. Set aside.

Once the pasta is cooked, drain and put back into the pot and sent on the burner but have the burner turned off. Toss in your bacon and mushrooms. Put the yolk and cream mixture in and toss well. If it is real thick add a bit more cream, you want it to be a bit creamy because the pasta will absorb some of the sauce. Taste and season with salt if needed. Serve immediately topped with additional Parmesan.

Powered by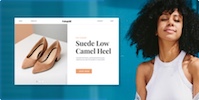 Create your own unique website with customizable templates.