I know this may freak people out but it is a great cheat to have in your fridge. These aren't your grocery store pickled eggs and they don't have to be eaten on their own. It is something that I started doing because during certain times of the year we are inundated with eggs and I needed something to do with them. They have come in quite handy to chop up and throw into a salad or make sandwiches out of and many other things. All I did was get a canning jar with a lid and put pickle juice in it from jars of pickles we eat. Then put in your pealed hard boiled eggs and in a minimum of 10 days you have pickled eggs. They last a long time in the fridge and you have them on hand for many different things.



Curried Egg Salad

Here is a recipe I use all of the time. I love curry and it makes a great addition to egg salad. I use the pickled eggs in the fridge and then you aren't having to cook them nd cool them and it makes it a lot faster!


This is for a serving of 1. Just double for every additional person. If you are not using pickled eggs add a dash of vinegar to the egg salad for a little acidic touch.

2 pickled eggs, chopped
1 Tbs relish of your choice
1 1/2 Tbs mayo
1/8 tsp pepper
1/4 tsp curry powder
salt to taste

Combine all ingredients thoroughly and serve with crackers or as a sandwich.
Powered by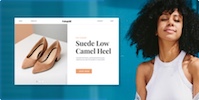 Create your own unique website with customizable templates.